---
This web site features photo-realistic illustrations (in color / black&white) of movie stars drawn by Hitoshi Sakagami.
---
---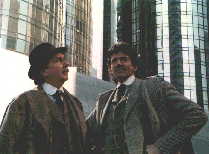 "Sherlock Holmes in L.A."
---
If you wish to use the illustration(s) presented in this website, please contact Hitoshi Sakagami by e-mail for permission. Any unauthorized use is prohibited.
Copyright (C) 1999 - 2021 Hitoshi Sakagami. All Rights Reserved.